The Weather Space Started out in 2011 by Joshua Tyler to give you what main stream weather news doesn't show , it started out asThe Weather Space (TWS),Southern California Weather Authority (SCWXA) than in 2014 became Public Weather Service (PWS) Than On July 1st 2014 Became Alternative Weather Service (AWS) , Southern California Weather Service (SCWS), Weather Alert Central (WAC)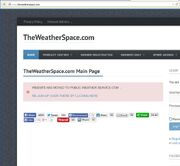 Senior Meteorologist: Kevin Martin
---
CEO: Joshua Tyler
---
Social Network Relations: Scott M
Triforce Weather is moving off Facebook for primary and onto our FREE Mobile App and Alert System
It is the active season fort he Northern Hemisphere and you need to get connected and do it WITHOUT RELYING ON FACEBOOK. Please understand that we cannot provide Facebook anymore and if you want our information you need to connect to our apps or email system. App is preferred! But we will continue the email system as well.
Facebook removed our page for absolutely no reason what-so-ever and we just cannot provide it to the masses anymore unless this issue is permanently fixed. We'll know in 72 hours.
Download our apps to STAY CONNECTED FOREVER
Triforce Weather is a custom weather alert system for the United States and Canada, powered by TriforceWeather.com, which allows users to select the zone they are in for notifications for custom weather alerts for storms, snow, flood, wind, and much more. Thousands are becoming a part of this lifesaving system over email and with the main app and it is the most accurate weather system you will ever need.
Email is not as effective so you need to download the app. Here are the instructions to do this.
INSTRUCTIONS: Download the app for either iOS or Android. Once you do that you open the app and go to 'get custom alerts'. You find your zones and then checkmark it, then save it. You will get notified by our system when we issue an article or alert in those zones you picked. I cannot stress how important it is for you to select the zones you want our alerts for within the app. That is how you get notified in your area.
Please use the buttons below to either sign-up by app, email or both. It is best you download our app because apps do not block notification like email providers can. Download the app below.[1]
App Downloads
External Links
Social Media
References
Community content is available under
CC-BY-SA
unless otherwise noted.